Feature Films at the 3rd Annual New Urbanism Film Festival, October 2015
Below is a list of feature films appearing at the New Urbanism Film Festival in Los Angeles October 8-11, 2015.  There are also five screenings of short films.  The line up for short films and final schedule of all films will be announced September 1st.
---
Can You Dig This?
South Los Angeles. What comes to mind is gangs, drugs, liquor stores, abandoned buildings and vacant lots.  The last thing that you would expect to find is a beautiful garden sprouting up through the concrete, coloring the urban landscape.  As part of an urban gardening movement taking root in South LA, people are planting to transform their neighborhoods and are changing their own lives in the process.  Calling for people to put down their guns and pick up their shovels, these "gangster gardeners" are creating an oasis in the middle of one of the most notoriously dangerous places in America.  CAN YOU DIG THIS follows the inspirational journeys of four unlikely gardeners, discovering what happens when they put their hands in the soil.  This is not a story of science and economics.  This is a story of the human spirit, inspiring people everywhere to pick up their shovels and "plant some shit."
---
East LA Interchange
East L.A. Interchange tells the story of working-class, immigrant Boyle Heights, the oldest neighborhood in East Los Angeles. Targeted by government policies, real estate laws, and California planners, this quintessential immigrant neighborhood survived racially restrictive housing covenants, Japanese-American Internment, Federal redlining policies, lack of political representation, and the building of the largest and busiest freeway interchange system in the nation, the East L.A. Interchange. The documentary explores how the freeways – a symbol of Los Angeles ingrained in America's popular imagination – impact Boyle Heights' residents: literally, as an environmental hazard and structural blockade and figuratively, as a conversational interchange about why the future of their beloved community should matter to us all.
---
Lutah: A Passion for Architecture, A Life of Design
LUTAH explores the life of a remarkably versatile architect who left an impressive legacy. Initially eclipsed by her male contemporaries in the early 20th century, Lutah Maria Riggs navigated her way through the male-centric world of architecture and brought a freshness to the established architectural styles of Southern California. Riggs blazed a trail for women, relying on the courage of her convictions and a hint of eccentricity. She pursued her passions and created a life of independence, an exceptional choice for a woman at that time. Never before seen photographs and journal entries from Riggs's personal collection, and candid interviews, this documentary reveals a side of Lutah Maria Riggs that has gone unnoticed.
---
Spoke
The U.S has the highest instance of cyclist fatalities and injuries in the developed world. Spoke is the journey of three young commuter cyclists who set out to bike from San Francisco to Orlando, interviewing crash victims, urban planners, activists and law enforcement to investigate the causes. The filmmaker trio travels to each interview by bicycle, with cameras, tripods and microphones strapped to their front-racks. Carrying the stories of fellow cyclists killed on American roads, SPOKE is an adventure-tale that looks to empower users of the humble bicycle.
---
Aftermass: Bicycling in a Post-Critical Mass Portland
The world looks to Portland, Oregon as an example of how bicycle culture can blossom out of the ruinous freeways of car-oriented civilization. Aftermass is the first feature documentary to explore the events, people, politics, and social changes that led to Portland becoming the first major bicycle city in the United States.
Aftermass features many of the leaders and major participants behind the growth of bicycling ridership since 1971. The narrative demonstrates the complex dynamic throughout the 1990s between advocacy organizations, politicians, city planners, and the then new, grassroots Critical Mass ride. The film is full of smiling faces on two wheels, but also explores the controversies, setbacks, and bumps along the way, including riots, political roadblocks, and an illegal police spy.
The film provides new and vital insights into Portland's transportation history as well as into paths other cities can follow to healthy planning and a green future.
---
Our Food Chain
Each day the second largest school district in the US serves over 700,000 meals a day. In 2012 the Los Angeles school district took the first steps of improving the nutritional content of school meals and the real 'food revolution' began. Our Food Chain documents, through the eyes of school administrators, physician, teachers, farmer, students, food activist and politician this revolution. They have come together with the idea of disrupting what our children are fed in schools and helped create a new paradigm. The results of which shows that a transformation is possible, from how food is grown to its nutritional value and ultimately to the student's own perspective of the value of healthy eating.
---
SHORT FILMS:
Arlington Passages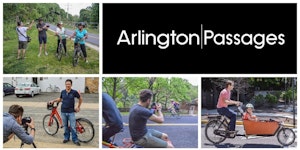 Arlington Passages is a short film series exploring all the different types, styles and motivations of bicyclists in Arlington.  Everyone bikes for a different reason and the city of Arlington is welcoming all of them.
ATELIER DA RUA

This short animation explains how Atelier Da Rua is a project to talk, think, design and build our streets collectively;
an urban design methodology towards a more participated city, linking local and global, traditional and innovative resources; a tool for projects imagined, designed and built with the community throughout the different stages of the process to improve the public space and create more human and valued places.
Avidor
A beleaguered sketch artist finds worry and hope as he contemplates the city of the future.
Be Inspired and Get Involved with the Angeles Chapter!
Film about the largest Sierra Club chapter in the United States and the wonders of the natural world nearby that await you!
Bikes VS Cars: The False Dichotomy

Too often discussion about bike policy and infrastructure is framed as hostile towards motor vehicles. However, policy and infrastructure that's good for bikes is good for cars and pedestrians as well. The false dichotomy is not good for anyone.
Boston Complete Streets
A short film highlighting Utile's work with the Boston Transportation Department on the city's groundbreaking Boston Complete Streets guidelines
BuffaloLand
Experience the thrills and chills of Buffalo architecture and civic design with host Tim Tielman of the Campaign For Greater Buffalo. Hundreds of millions of dollars are going into the downtown Buffalo Niagara Medical Campus — while we all hope this massive investment near downtown will bring urban revitalization to Buffalo, the early signs raise the question: it it the cure or just more disease? The tragic irony: It's the MEDICAL industry that is creating a built environment so harmful to public health and safety.
Cars + Pedestrians
CTfastrak: First Impressions of Hartford's New Transit System
Ride along with two UConn civil engineering students as we take a firsthand look into Hartford's new CTfastrak system, a 9+ mile bus rapid transit line between Hartford and New Britain in central Connecticut.
Diagnose Your Habitat
Every citizen can develop a critical eye for evaluating the impact of the built environment on their state of mind. Five simple criteria are presented along with positive and negative examples from everyday life.
Do Season
A short documentary on economic development the hard way. Based in Fredericton, Canada, this film tells the story of a summer entrepreneurship program which has begun to change the ambitions and morale of an under-performing city.
Every Speed
Every Speed is a short experimental documentary that looks at the meaning of movement for people with and without physical disabilities – both in terms of design and accessibility of cities and transportation as well as personal experiences of movement – in the context of a culture that places value on independence, speed, and physical ability.
From street to art
"From street to Art" is an overview of the best Italian street art through the work of 10 artists in the first collective exhibition ever realized in New York. The exhibition brings into question the term street art by proving the specific expressive identity of the artists, in an attempt to go beyond a too general definition to be a real quality parameter.
Future:Portland
It's not that I didn't like Portland while I was growing up, and, to be honest, I do not dislike it today. Portland is an area of land that I walked on, fell into, collided with, bled, spat, and pissed on, used, farmed, and took from while it asked for nothing in exchange. It is in no way a greedy, vindictive, arrogant, or prejudiced place. If only the trees could speak, the grass could nurture, and the steel and concrete could soften underfoot while reminding me that I am part of its story.
GRAFSTRACT: The Bronx Street Art Renaissance
By enlisting the help of some of the world's top street artists, J. "SinXero" Beltran has made it his mission to legally beautify the Bronx, the birthplace of graffiti, through his TAG Public Arts Project (The Art of Grafstract).
I'd Rather Stay
What makes a neighbourhood a good place to grow old?
I'd Rather Stay shares the intimate stories of five older adults, living in different Greater Vancouver neighbourhoods. From dense urban centres to car dependent suburbs, the film delves into their day-to-day lives and explores personal issues of mobility, vulnerability, and resilience. We begin to understand the love that these older people feel for their homes and neighbourhoods, and their real fear should they lose their independence.
Planners and public health professionals work toward addressing problems presented by the shifting demographic in North America – 'a ticking time bomb'. The solution may well be found in the words and wisdom of older adults as they consider what makes a neighbourhood a healthy and inclusive place to grow old. More than a call to action, 'I'd Rather Stay' invites us to consider our collective future as a rapidly aging society.
L'AMOUR
An elderly woman interrupts a vandal painting graffiti.
A short film that challenges society's preconceptions and ideas of right and wrong.
Landfill
Artists and entrepreneurs battle over a piece of Boston cream pie: a prized geographical area known as Fort Point, which started out as landfill.
Two hundred years ago the section of Boston called Fort Point did not exist. It was reclaimed from the ocean by landfill and became New England's oldest and largest visual artists community. "Landfill" is a short documentary about the lively battles between the Fort Point artists and the entrepreneurs dramatically changing the area. "Landfill" is told from the perspective of resident Rocco Giuliano, a writer who just happens to love spy novels. "Landfill" was produced, directed, shot, and edited by Henry Dane.
Looking for Gromit
In 1871, at the release of the Siege of Paris and the "Commune de Paris," numerous Parisian buildings are destroyed, including many aqueducts. The price of water becomes amazing, many poor families are not able to access clean water. A rich English philanthropist responds to the plight of the poor Parisians and builds 50 public fountains in Paris. The fountains are so well received, the city decided to build more.  Today, there are over a hundred fountains all over the world.
Mary Mattingly's Waterfront Development
What's the latest trend in New York City real estate? Over the course of the summer and fall of 2013, artist Mary Mattingly constructs and occupies "Triple Island" (2013), an outdoor sculpture overlooking the East River in Lower Manhattan. Situated in the newly developed Pier 42 public park — a waterfront area flooded by Hurricane Sandy in 2012 — the sculpture rests on buoyant 55 gallon drums, which allow it to float in the event of rising sea levels. Mattingly and friends build "Triple Island" out of a mix of recycled, donated, and custom-made materials. The three main structures — a living space, greenhouse, and community garden — together form a system for living off the grid in the densely-populated Lower East Side. A self-described apocaylptic thinker, Mattingly views the project as an experimental model for an imagined future where environmental degradation and collapsed economies render current ways of living in urban areas untenable. "I think Triple Island has a very specific aesthetic intention," says Mattingly, "and it is to imagine a world with leftover materials and how you would build and what it would look like." Through summer heat and winter cold, the artist and several intrepid volunteers live in the sculpture, collecting rain for water, harnessing solar energy for power, and harvesting a garden for food. Residents' motives for participating vary widely. For artist Ivan Gilbert, Triple Island offers a chance to gain "a few more degrees of relative freedom from giant inhuman institutions." Partnering with a coalition of advocacy organizations, such as the Hester Street Collaborative and Lower Manhattan Cultural Council, Mattingly's project is less an experiment in individualistic self-sufficiency as it is in the communal sharing of local resources.
Milieu

Milieu is about the potential of transforming the often forgotten and abandoned spaces of our cities and inspiring people to be part of this change.
OLVERA STREET
A conversation about history and change with some of the oldest family-owned businesses on the street where L.A. was founded.
Plight of the North American Bipeds
At one time they roamed freely across North America and had few predators, but today their numbers have dwindled. Populations still exist in the hearts of a few large cities, in declared safety zones. Their predators are well-fed and grow rapidly in numbers, and much of the bi-peds' habitat has been destroyed. Organizations such as The Congress for the New Urbanism have pledged to work for their survival, but will their efforts be enough?
Ridin' the 909 with the PVBC
A mini doc that provides great insight into The Pomona Valley Bike Coalition, which is a community organization that promotes the positive aspects of cycling in the 909 area code.
Seven50
Seven50 is the regional plan for Southeast Florida. Dover, Kohl & Partners engages a host of leading experts and thousands of citizens across the seven-county region of Southeast Florida to create a dynamic plan to guide decision-making as our region grows and evolves.
Shared Spaces
Public spaces, such as Park Central Square in Springfield, Missouri, can be designed to attract people. But what kind of people? And will those people interact across uncomfortable social and economic boundaries? This film explores the limits of shared public spaces and the people who use them.
Sound Piece
We think of a public art work as a visual object, meant for the eye. But what happens when viewers find other ways to play with the art?
Streetsploitation!
Streets are for people. Or they were until cronyism conned us out of the streets. A few powerful groups profit at the expense of many. Let's take back our streets.
the cerebral city
A young Australian woman rediscovers her city's public spaces through the narration of one of Melbourne's urban designers who helped transform it from an dying wasteland into a vibrant place for people.
The Edge of Memphis
The Edge District in Memphis, TN is a historic and almost forgotten area found between the revitalized Downtown and Midtown areas. Now, business owners & community organizers look to bring the area back to a thriving place of art, culture, and entertainment.
The Edible Bus Stop
The Edible Bus Stop® is a project that germinated from the need
for green space within our cities and built environments. The Edible Bus Stop®  transforms neglected urban public sites into design-led, community growing spaces. 

Our vision is to produce gardens that promote harmonious meeting areas for people to come together for the good of the neighbourhood and to get to know each other. By gardening and enjoying these community growing spaces, conversation is encouraged, barriers are broken down, skills are shared and a vested interest in a neighbourhood is nurtured. 

Our aim is to move away from the usual stereotype of community gardens where the emphasis is mainly on function over form, instead exploring designs that create landmarks of pride, demonstrating that good design is not socially exclusive. Our objective is to create an Edible Bus Route, using the existing 322 bus route through South London.
The IDEA district
A new 21st century neighborhood is emerging in downtown San Diego founded on the principles of innovation, design, education and the arts- The IDEA District
The Millennial Shift Towards Walkable Cities
This video intended to unravel the reasons why so many young people are moving to cities like Boston and New York. We interviewed students from the University of Connecticut to see where they were planning to live after graduation, and why. We also interviewed experts in the field of Transportation and Urban Planning to add further depth and understanding to the story.
The Morning Ride
There is an intimate connection to one's environment that only commuting by bicycle can provide. This film is about an everyday commuter who lives for their daily ride and also needs to look good at the office. From the beautiful solitude of the North Shore to navigating the busy streets of downtown Vancouver, this short lets you experience the feeling of a west coast morning ride into company HQ.
The northparker
Architect + Developer Jonathan Segal's new mixed use building brings together craft beer, street tacos and modern design at the corner of one of the country's hottest neighborhoods- Northpark, San Diego.
The road to school
This video was shot in Cap-Rouge, Quebec. It follows two young students as they undertake the 650-meter walk that separates their home from their school. The road they need to walk is far from being safe, prompting many parents to choose the car as the family's primary means of transportation. The lack of adequate pedestrian infrastructure is in large part responsible for the staggering decrease in the number of students walking to school in Quebec.
THE URBAN WORLD
THE URBAN WORLD follows the experiences of one family living in a mixed Hindu/Muslim slum as they and 18,000 other families are evicted from their homes on the banks of India's Sabarmati River to make way for a massive development project. The film is both a portrait of a family at a moment of crisis, an ethnography of a culture moved from a horizontal communal society to mid-rise facilities, and a case-study that raises multiple questions regarding public policy and social justice in solving the plight of the world's urban poor.
This Is Market Street
Market Street, San Francisco's grandest street, is a destination the world over because it truly is 'the heart of the city'. In the near future, designers and planners will attempt to redesign Market Street to meet the growing needs of a 21st-century city with the 'Better Market Street' project, a major design and public works project initiated by the City of San Francisco. 'This Is Market Street' catalogs the many voices of Market Street before the redesign ushers in a new reality for San Francisco.
Velo Visionaries
Velo Visionaries presents a series of interviews with great thinkers of today's global bicycle culture from the point of view of the person behind the handlebars.
VILLAGES IN THE CITY: Garden Apartments of Los Angeles
Los Angeles has one of the largest collections of garden apartments in the nation. Explore three of these "villages in the city" and the fight to preserve them.
Produced in collaboration with Los Angeles Conservancy.
What I See in the D
Urban assets celebrated to a bongo beat. "We got the funk, we spunk, we got the heart, we got the art. Nobody boring in Detroit!"